The Top 4 Reasons to Outsource Data Entry Services for Medical Claims Processing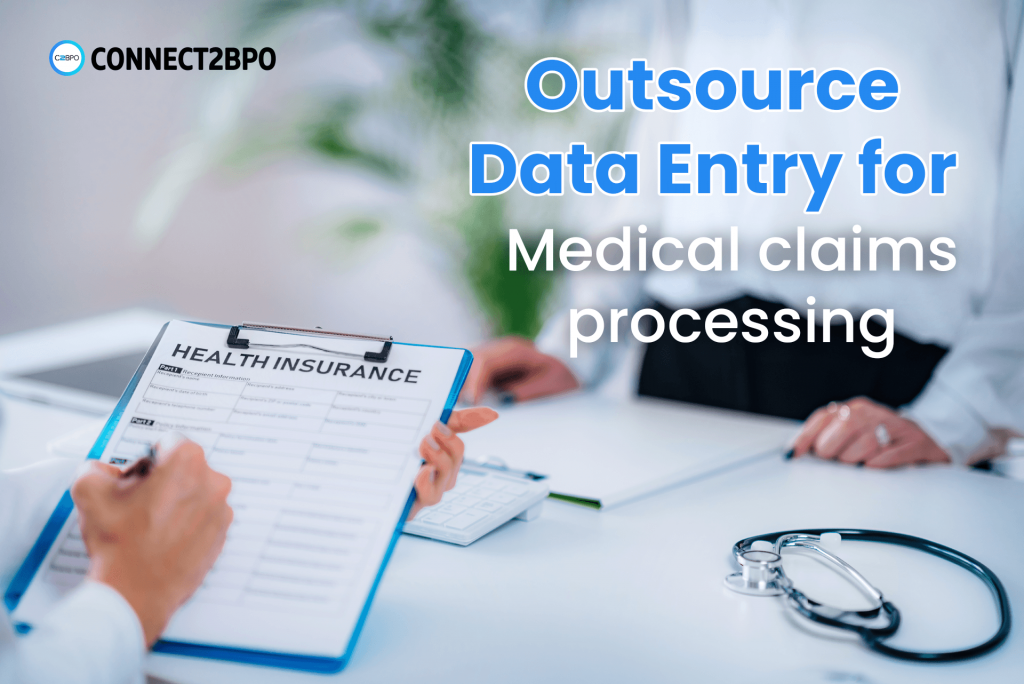 Health insurance claims processing for billing and collections can be a long process. However, it is essential to any business that pays healthcare providers. One of the most valuable data sources for healthcare organizations is medical claims. To improve the cash flow, a health care provider needs to provide extra care to the medical claim processing sector.  
Many service providers don't have the experience, skills, and technology to handle medical billing. So, the best option is to outsource data entry services for medical claims processing.
What are the Challenges Faced in Data Entry Services for Medical Claims Processing?
Data is one of the most important assets of any organization. The healthcare industry, being a highly data-intensive industry, needs to focus on automating and optimizing the use of data. If the industry can manage, integrate and harness vast piles of data, it can enhance its operational efficiency.  
In the healthcare industry, the data collected is complex and is governed by excessive regulations. Some challenges faced in data entry by healthcare providers are: 
Even now, many providers do manual data entry to store the information. Manually inserting the data could take a long time and result in more errors. It also requires ensuring patients' privacy is protected and others do not access files. Many healthcare providers have switched towards Electronic health records (EHRs). It is a web-based solution with built-in encryption that protects files from unauthorized access. They are used to capturing and manage the information collected during patient appointments. EHR's are secured and compact.
Healthcare providers have to record a lot of data, including patient information, intake forms, consent forms, health assessment, claims forms, etc. The data could be structured or unstructured. This makes the extraction and integration of data a big challenge for healthcare providers. It is easy to collect data, but unifying them is a challenge.
Just collecting and storing data is not essential. But it is also vital that the data yields consistent meaning and is shared and transferred among people, organizations, and systems. It consolidates patients' data and gives them complete control over the sharing of their records.
Data security is one of the major concerns of all healthcare providers. During each transmission, data could be compromised. There has been an increase in cyberattacks recently. This leads to data breaches and invasion of private personal data. Keeping the data security could be a huge challenge for healthcare providers.
Data in the healthcare industry changes constantly. Each patient undergoes a wide range of tests and treatments within a few years. So, ensuring that the data is updated every time and is efficient is also a challenge for them. 
From the above challenges, we can surely say that data entry services for medical claims processing is a highly complicated process, extremely challenging, time-consuming and risky if not done properly and many healthcare providers cannot do it properly. Their primary focus is accuracy, timeliness (i.e., processing claims quickly), and cost-efficiency. If these objectives are not met, it can cause headaches to the healthcare providers.
Healthcare providers deal with thousands of medical claims daily that have to be compiled and recorded. Any error in the data can cost a lot to the business. In this department, incorrect information could affect the well-being of human beings. Data entry is not a core activity for a healthcare provider. Therefore, the purpose of improving the systems and processes is also limited.  
Thus, rather than focusing on data entry for medical claims processing, they should focus on improving their medical systems, which will enable better care and support to individuals. Doesn't that make sense?  
If they do this job, healthcare providers will need to recruit a lot of staff, hardware, and software to store and access that information, etc. However, if the team is not competitive enough to handle, it can cause many issues. 
Hiring and maintaining staff only for data entry doesn't seem efficient. Due to all these challenges, healthcare providers prefer to outsource data entry services for medical claims processing. Outsourcing these activities to a business process outsourcing can be a key to survival and growth.

Outsourcing data entry for medical claims processing has many advantages:
A healthcare provider can get easy access to a highly trained team of skilled, educated professionals who can handle the most complex of tasks through outsourcing.   

Business process outsourcing companies are focused and experienced in their task, which means fewer errors are reduced.  

By outsourcing the back-office work, the healthcare providers will focus on their core activities, thus providing the best services.  

Healthcare providers will also reduce their costs by outsourcing data entry for medical claims processing, as they don't have to spend on resources for data entry work.
Connect2BPO provides Business Process Outsourcing to established Companies to help them improve operational Efficiency and Reduce Costs.
Learn more on how can we help your organization develop it's full potential
Suscribe to our Newsletter
If you would like to stay up to date with our latest news and updates, please let us know by clicking to the subscribe button.
Connect 2 BPO S.A.S is a Business Process Outsourcing company established in 2016. We develop, execute and manage campaigns for businesses around the world.