The Benefits of Outsourcing Travel and Tourism Business Tasks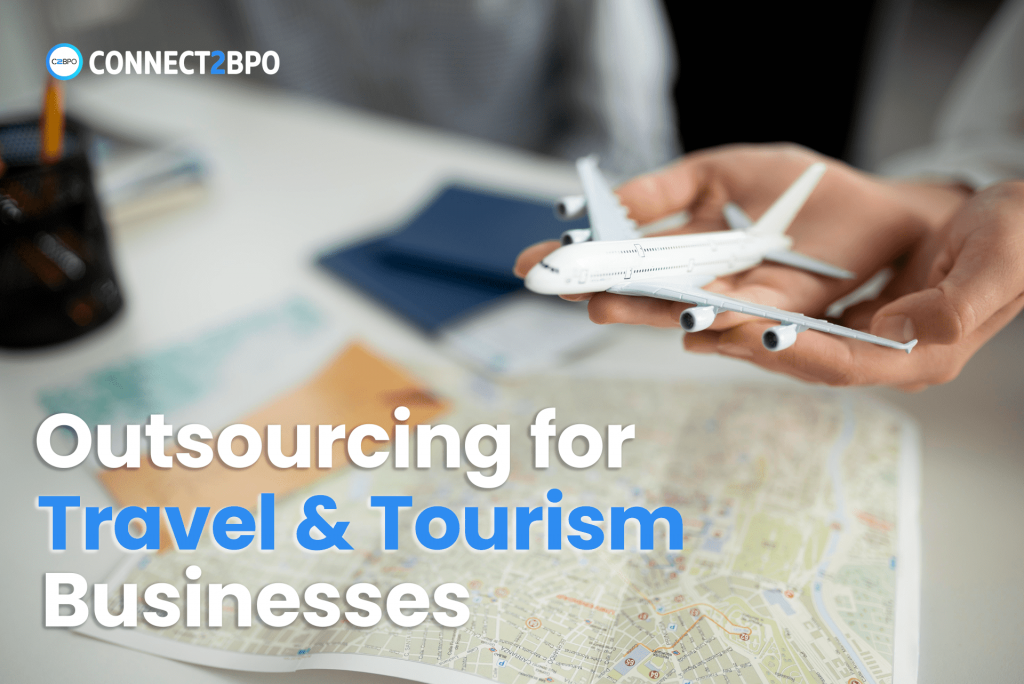 In order to create a world-class business impact, travel companies need to overcome various challenges. They have to deal with competition, investment restrictions, resource management, shrinking margins, and brand evaluation. All these things demand a lot of time, therefore, they consider BPO/BPaaS service as a relevant solution to save time for core business functions.
Airlines, OTA(s), TMC(s), travel agencies, tour operators, and other travel companies outsource their helpdesk, accounting, call-center, back-office, and web-design projects. Here, we will discuss, all you need to know about BPO, its meaning, benefits, and business process solutions for travel companies.
What does BPO outsourcing mean?
When companies hire external companies to perform tasks and operations of their own companies on their behalf, it is called business process outsourcing or BPO. With the help of BPO services, they save a lot of time focusing on their core business activities. In this way, they improve their business capabilities to perform better than before.
8 benefits of outsourcing your travel business-internal activities
An outsourcing service provider has highly-trained staff and great methodologies that can handle business activities in a more efficient way.

 

Travel companies can form better customer relationships by hiring a team from offshore outsourcing companies. This helps them run their business in different time zones and deliver a non-stop service, which is beneficial in performing better than their competitors.

 

Business process management services are helpful to travel companies in removing language barriers, as outsourcing service providers have specialized teams that can serve customers in their native languages.

 

BPO reduces operational costs and helps travel companies overcome the challenge of finding specialists for better business processing.

 

The use of the latest technology in business process solutions ensures the proper security of clients' data.

 

Outsourcing partners can provide a company with the BPaaS (Business Process as a Service) solution that employs a cloud computing model. This increases automation in their business process by the use of the latest technology. Thereby reducing the risk of errors.

 

With the use of software like Coral Draw and Adobe Illustrator, outsourcing service providers can handle web-design projects of travel companies in a more effective way.

 

Outsourcing some o business activities to outsourcing partners allows travel companies to focus on the primary business tasks that are needed for their organizations' overall growth.
Why do travel companies find outsourcing services necessary?
Travel companies consider outsourcing services necessary because of the following reasons:
Brings efficiency

Drives more output

Reduces operational cost

Excellent customer service

Increases business hours

Utilizes multiple resources

Increases competitiveness

High-performance level

Proper business management

Delivers the best service quality

Saves time to expand the business to newer markets
Business process outsourcing services that travel entities find necessary:
Business process outsourcing helps travel companies manage their volumes of data and transactions, with the use of the best back-office solutions. It provides access to specialized skills for proper data management. In this way, travel companies can bring efficiency in business operations with the help of reliable outsourcing solutions.
Finance and Accounting Outsourcing
Travel companies can employ outsourcing services, for managing the finance and accounting of their company, expertly. The outsourcing service providers are capable of delivering the correct financial reports by processing the travel accounting systems carefully. They use high-end technologies like AI and analytics to collect, organize, and analyze financial data.
The help desk can be transferred to BPO service providers because it can resolve customer queries on time. In this way, travel companies can get the best support facilities for their customers at affordable prices.
By transferring their call centers to outsourcing service providers, travel companies can provide the best customer experience. In this way, they can deliver excellent services with the help of multiple support channels, including phone support, email support, and chat support.
Travel companies can outsource their web-design projects to ensure their website has an eye-catching design to draw customers in. The design teams of BPO service providers use advanced web creation tools to produce attractive design layouts. This can help travel companies present their business ideas, with the perfect combination of color and creativity.
Connect2BPO provides Business Process Outsourcing to established Companies to help them improve operational Efficiency and Reduce Costs.
Learn more on how can we help your organization develop it's full potential
Suscribe to our Newsletter
If you would like to stay up to date with our latest news and updates, please let us know by clicking to the subscribe button.
Connect 2 BPO S.A.S is a Business Process Outsourcing company established in 2016. We develop, execute and manage campaigns for businesses around the world.